Welcome!
If you are interested in new choral music – particularly Christmas and other seasonal pieces – please browse through the pages of this website, read through the scores, listen to live recordings, watch videos of performances, and find out how easily you can order (and in most cases download) any of the pieces that are of interest to you.
LATEST UPDATE: The last year has been very challenging for performing musicians and composers.  In the UK and in many other parts of the world, repeated lockdowns and restrictions caused by the Covid 19 pandemic have made live concerts in front of an audience impossible for most of the year. Many scheduled concerts and tours have been cancelled, and choirs and orchestras have been unable to perform.
Nonetheless, I have been fortunate to be asked to write some music for the Nidarosdomens Guttekor, a famous Norwegian choir of boys and men, based at the Cathedral in Trondheim. They have been able to perform, with some limitations, in the vast space of this Gothic cathedral, in both services and Christmas concerts.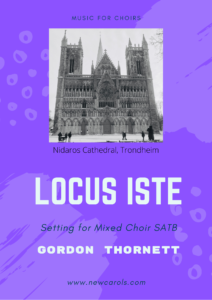 I wrote two settings of Latin texts for them, and a Norwegian carol setting for their Christmas concerts. One of the Latin settings, 'Locus iste' was performed at a special service to mark a bishop's induction in the cathedral.  Here is a recording of the choir singing  Locus iste.  The sheet music is obtainable in print or by download from J W Pepper by clicking on the picture.
NEW PUBLICATION BY OUP
"Star of the East", a new setting of the Epiphany carol, Brightest and best of the sons of the morning, has now been published by OXFORD UNIVERSITY PRESS. The setting is for mixed choir (SATB, with some divisions). Written originally for the Nidaros Cathedral Boys' Choir in Trondheim, Norway, it has also received several performances in the UK.  The accompaniment is for piano or organ, and an optional orchestration will also be available through the OUP hire library later this year.
Listen to live a recording of "Star of the East", on the OUP website. The accompaniment here is for piano.
More recently my Children's Christmas Suite was recorded by the Birmingham Royal Ballet Sinfonia, conducted by Gavin Sutherland.  This piece, consisting of six linked movements, incorporating a number of well known children's Christmas songs, is available for download from sites such as Spotify, emusic, iTunes and Apple Music, and the score and parts are available for purchase from SwirlyMusic,org. I also wrote a brass fanfare for the inaugural conference of the British Society for Music Therapy in 2014.
Many of my settings and arrangements are self published, and can be easily obtained as digital downloads from Swirly Music, Sheet Music Plus and  J W Pepper. Please choose the category of music you are interested in from the list below.  In most cases you will be able to hear a live recording, as well as looking through the score, before purchasing.
The following new pieces  have recently been added, and are available for instant download from SwirlyMusic.org:
Prelude and Cherubic Hymn – An Advent setting for choir, organ and orchestra, based on the ancient hymn, "Let all mortal flesh keep silence". Score and parts available in print or for instant download. Commissioned by the John F Kennedy School in Berlin, and first performed in Berlin Cathedral in November 2017.
Star of Wonder (SATB, with divisions) Accompaniment is for organ or piano    [Orchestration available.]
The Angels' Song ["It came upon a midnight clear"] (SSA) with piano accompaniment.
Jesus, Friend of Little Children – for SATB choir with piano or organ. suitable for infant baptism and other children's services. May also be used as a vocal solo with piano accompaniment.
NOTE – The above pieces are also available from Sheet Music Plus. 
Another piece which has just appeared on Swirly Music and Sheet Music Plus is
It's a Beautiful, Wonderful World – a simple song, inspired by a visit to botanical gardens in southern California.
"It's a beautiful, wonderful world,
A world of wonder for all to share;
Let us walk together, hand in hand,
Spreading peace and friendship throughout the land…"
For anyone who uses J W Pepper, a number of pieces are now available for purchase through them.  Just go to https://www.jwpepper.com/myscore/thornett.   Watch this space for further news!
PIECES PUBLISHED BY 'TRADITIONAL' PUBLISHERS
Oxford University Press [OUP]:
Norsk Musikforlag:
Shawnee Press/ Hal Leonard:
 Faber Music:
SELF PUBLISHED SETTINGS AND ARRANGEMENTS
PLEASE NOTE  – Clicking on any of the titles below will take you straight to the relevant site, where you will be able to read through the score, hear a recording, in some cases see a videoed performance and, if you wish, place an order for printed copies – or an instant download.
 SATB settings:
Extended choral pieces;
For Children's Choir (Unison/2-part):
For Orchestra:
Most of the above are listed on Sheet Music Plus and SwirlyMusic.org, where you can look inside the music and have a listen before deciding whether to make a purchase. A growing list of pieces is also available through J W Pepper. In the case of pieces published by OUP, Faber or Norsk Musikforlag, I'd be pleased to arrange for a free inspection copy to be sent to any choral directors who may be interested in performing the piece. Just drop me an email at gtbham@me.com.